I haven't been focusing on currency markets much in the past year or so and there's a good reason for it, volatility. Rolling 30 day standard deviation is sitting at 15 years lows, in some pairs even lower. This is very well reflected by charts where we can see multi-year consolidations or sideways trends, however you want to put it. I don't know about you, but I like trending markets, and most currency pairs have not been trending in years.
It feels, however, times are about to change. Volatility could increase soon thus making FX markets interesting again and when volatility does increase everyone will go on about currency wars or some other thing to justify their narrative.
Let me start with showing you a volatility chart of individual pairs going back 15 years and continue with an overview of some majors.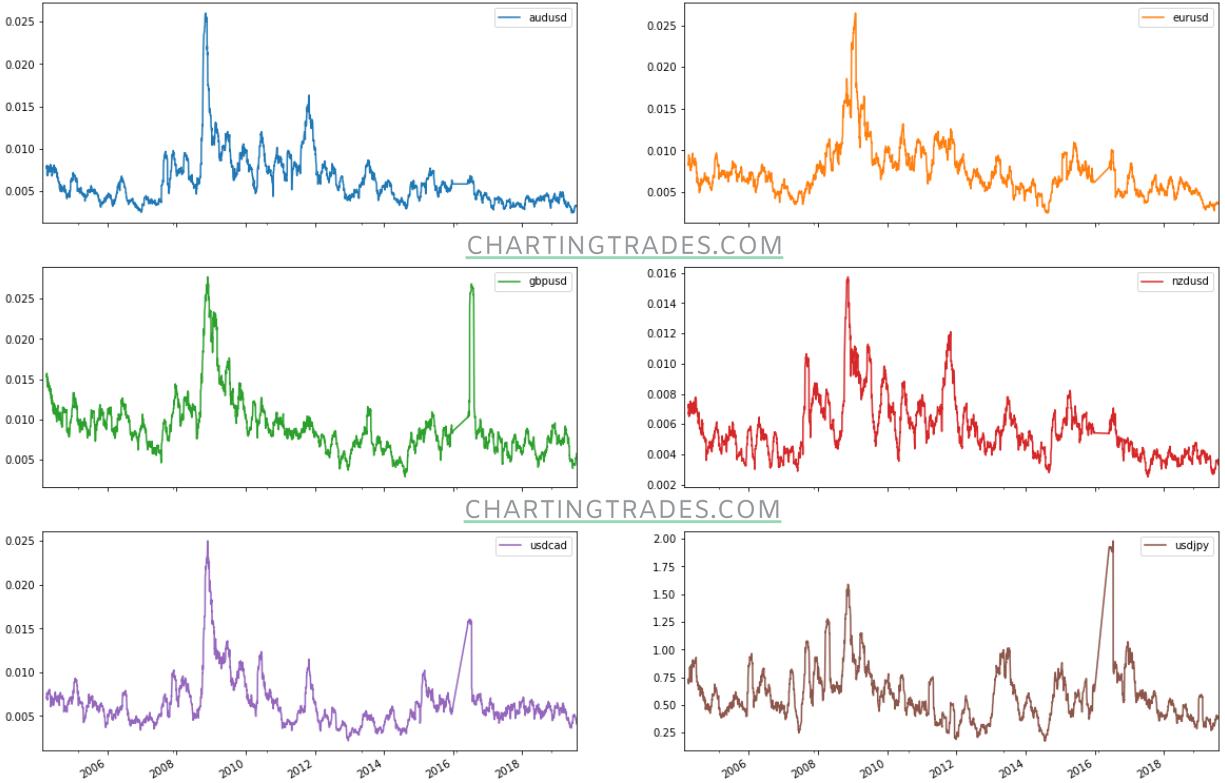 We can see the same pattern appearing in every chart. Volatility was very high around '08/09 when it started falling to current levels. Not many are prepared for a volatility spike and when it happens, we should see huge moves across the board! It will very soon become apparent that probabilities for such a scenario are high.
Let's start with the most important FX pair in the world, EURUSD.
It's sitting at a lower end of the 40 year long rising channel while at the same time forming a 2 year long falling wedge. Volatility has been compressed both on short and long term. Should we see the price to break above 1.13-1.14, the euro could provide a great long opportunity. However, if it's below 1.10, price falling below parity becomes a serious risk.
Next one is USDJPY. It's in a very well defined multi-decade long falling trend.
The price has in the past 5 years formed a symmetrical triangle pattern and it's now sitting at a crucial support for bulls. If it manages to break below 105 level we're good for another leg lower that could make all the way down to or below 2011 lows. Should the price recover and break above 115, get ready to jump on a generational low taking place!
USDCAD has also been consolidating in the past couple of years and is just waiting to for a reason to let it go.
The levels to watch are 1.30 and 1.35. Should bears manage to push it below, we could get a full blown bear trend. On the other hand, bulls are hoping for a trend to continue higher.
China has been accused as a currency manipulator. Such accusations are funny because every economy is manipulating with its currency in one way or another to achieve whatever goals they may have.
USDCNY broke above the magic level 7. It's suggesting Yuan should depreciate further against the dollar. Trade war talks have been quite unpredictable and should we see more surprises don't be a stubborn bull in case the price falls below 7 again.
Looks like we're seeing a proper breakdown in AUDUSD.
As well as NZDUSD.
Should the bears hold it below 0.70 and 0.65 respectfully, we have no reason to buy them. In this case is really hard to justify price to rise. However, should we see a decisive reversal above the mentioned levels, we should consider a scenario with prices about to rise.
One of the weakest, if not the weakest, developed market currencies, is the British pound.
The price of GBPUSD is sitting on a multi-decade long trend-line which is also at multi-decade lows. A decisive break below 1.20 means parity is ahead of us. There's no sign of a reversal, however never underestimate a bear trap risk!
Let me finish with a chart of an emerging market currency, USDMXN. Other EM currencies look very similar to this one, some a bit better and some a bit worse.
It will be really interesting to see how trade war talks evolve over the next couple of months. Most EMs currencies have been falling against the dollar over the past couple of years, if not decades. We are seeing consolidations across the board and it looks like a perfect storm is brewing. Will the dollar crush EMs or will it be crushed against EM currencies thus letting EM to flourish? USDMXN will be a great tell in my opinion.